There is a great deal of press currently about the decreasing costs of 3D printers and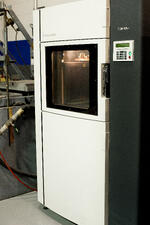 how they stand to change manufacturing and product delivery. However, amid the interesting news items about printed breathable casts, printed dresses, and even printed guns, the details of why 3D printed objects are not production-ready or structurally sound are left out. Prototyping is actually much more complex than just creating a design and having a machine spit out material in a desired shape; plastics are not as inert as they seem and do not operate like static building blocks.
This is why mold flow analysis, a preliminary process to effective injection molding, is so vital. Since the flow of the liquid material in the mold makes a massive difference to the behavior of the product, this step can save a great deal of effort down the road. Furthermore, it demonstrates a commitment to quality.
The process occurs through specialized software using a simulation of the design. This software creates color maps of different properties of the design as they would be reflected in the actual mold flow. These may include heating/cooling, fill pattern, injection pressure, potential air traps, shear stress, fiber orientation, and many more properties. These maps assist in adaptive changes of the design in order to ensure a quality product before the molding process actually occurs.
Though it is machine assisted through tools that have become very sophisticated, mold flow analysis is a careful, hands-on-process meant for experts. Despite the overhead that it adds to the process, it more than makes up for this in terms of final quality. In fact, it has been considered a factor in keeping North American prototyping competitive in the face of less expensive global competitors.
Contact us for more advice on the best techniques for industrial prototyping and information on how we may be able to assist you.