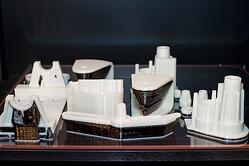 When developing a new product, it often is prudent to create a working model, so you can detect in advance any faults and problems within the design.
Rapid Prototyping
Rapid prototyping provides businesses a method for working with the design physically. It allows unforeseen problems to be worked out efficiently while facilitating production of the product.
This process produces a working model that engineers and other designers can utilize to unearth what problems might arise for consumers using the product. Rapid prototyping follows a system from design to production that helps minimize these problems.
The design is first received by the "prototyper" as a sketch or computer file of what is wanted. At this step, the prototyper and the designer work together to find any possible problems with the design that won't interfere with purpose.
After the design is reviewed, the prototyper works out the best way to create the prototype. This means the prototyper produces the pieces that are separate to be ready for milling. Milling produces any holes, shapes, and other changes that are needed to form the prototype together. The prototyper will let designers and businesses know of any problems that came up during this process, so they can be worked out in the final design.
Once this construction is done, the final prototype is sent to the designer to work with and appreciate.
Creative Mechanisms provides businesses and others with rapid prototyping services, so they can get their design off of paper and into reality. Please contact us so we can help with your needs today.