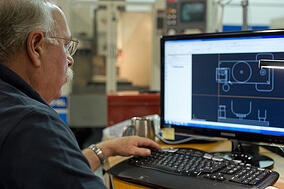 When designing a new product, rapid prototyping services provide businesses,
inventors, and hobbyists with a reliable method of working out design flaws for their final design. Not every prototyping service is the same. Finding a dependable company that can provide the highest quality prototypes at a fair price is important for developing affordable and working designs. It is also important knowing that your designs will be handled with the greatest scrutiny so that your creative property is still yours.
Prototyping
Prototyping is the first step in making designs on paper fit in your hand. It gives businesses, inventors, and hobbyists a physical model by which problems can be found and eliminated for the final product. Prototyping alone can require a large investment of time and money. Prototyping requires specific hardware to mold, shape, and cut plastics into the right design, and it also requires years of experience to know what works and what doesn't work. Having a prototyping service can help prevent some headaches later on by relying upon experience and technology that is already available.
Rapid Prototyping
Getting a prototype produced as quickly as possible means getting products available quicker for sale. Rapid prototyping services help businesses, inventors, and hobbyists get their products developed quickly. Many rapid prototyping services rely upon a scheduled batch production. This means that a certain amount of prototypes are needed to be purchased with a lead time to allow the design to be properly studied and formed correctly. Lead times can vary from a few days to a few weeks. Batches can vary from as little as one unit or more. It all depends upon the service.
Prototyping is an important process within the development of new products. It allows businesses, inventors, and hobbyists to physically work with their design to find any errors or other problems that will need to be changed. Prototyping services will use their experience to help designers find a balance between utility and performance. They will help identify what problems may occur in the final product. Rapid prototyping services can get models and sample units quickly to the designers so that any changes necessary can be made appropriately.
Creative Mechanisms provides businesses and others with rapid prototyping and other services. We strive to make your designs and products into reality. Please contact us so we can help you with your specific needs.