Hinges in mechanical armatures and in carpentry are in a way modeled after living joints: they allow fixed, limited rotational motion along one degree of freedom. Of course, in reality joints with living tissues are not this rigid and precise - they are flexble. In product design, the same goes for living hinges: the thin but tough section of material integrated into the body of products such as a pill boxes, compacts, and some food containers.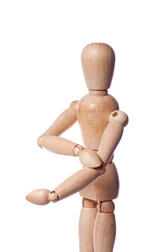 It is can be a tremendous design challenge to create an hinged structure - that can bend at will without breaking or tearing - out of one continuous body. Remember that bending plastics causes the weakening of bonds, and any repeated action means reduction in integrity. Properly-designed hinges can endure up to a million flexes without failure.
Though intuitively many people would think of a thicker hinge as being stronger, thickness can hurt the strength of a hinge. A thicker hinge is harder to bend, but it also has worse molecular orientation and thus becomes less flexible. Ultimately the molding process that creates living hinges has to assure uniform wall thickness for the rest of the design while carefully tapering the hinge at just the right levels.
Less common than the solid, uniform living hinge is the latticed variation. Composed of a roughly diamond shaped array, a lattice provides extra guarantees against failure by being able to twist in any direction.
The invention of living hinges has allowed us to include reliable hinges on throwaway items such as pill boxes. When creating an injection molded prototype, give careful consideration to the design and testing of these hinges... they are critical to the quality and success of your model.
Read a comprehensive discussion about living hinges here.