Rapid prototyping, particularly for medical devices, has entered a new era with the advent of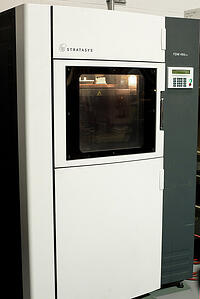 3D printing. Companies of all sizes are using 3D modeling to significantly speed up the development cycle and keep costs in check. With the significant reduction in the financial risks associated with model development, the result is a major increase in innovation as engineers are more willing to take chances with unique, previously unproven designs.
3D printing technology allows vendors to design and test the latest ideas developed for their clients, quickly and cost-effectively. This new manufacturing method provides customers the opportunity to have a working prototype in their hands in as little as a week after a new design, compared to the traditional wait of three to four months. And with greatly reduced costs, it is possible to generate multiple models or try out varying designs for the same cost, greatly increasing the chances that a model will actually meet the needs of the project, on time and on budget.
Advanced versions of the technology are making major difference in the process of product development across a wide range of industries, including medical devices. And rapid prototyping using 3D printing technology provides more than just cost savings. Experts note that the quality and innovation of new designs, such as medical prosthetics, has been greatly improved.
Another key factor made available with rapid prototyping involves product safety, with 3D prototype manufacturing processes offering the potential to significantly limit critical design flaws in medical devices that previously may not have been discovered until after a product had gone to market. With models being produced in a fraction of the time required in traditional processes, engineers have a much larger time window for testing and to note design flaws that require remediation to resolve issues or to make recommendations for changes that enhance functionality. These changes can then be quickly and easily incorporated before a product even goes into production, much less put out on the market where recalls may be required.
While not yet the answer for mass production, the use of 3D printing will continue to revolutionize the process of rapid development of prototypes in all markets, including medical devices. One day, it may even be possible to manufacture vaccines and DNA molecules with this technology. Until then, developers are saving time and money, and creating new and improved medical devices that make a real difference in people's lives.
At Creative Mechanisms, we are passionate about what we do and creating out of the box solutions for our customers. For more information on how your company can benefit from our rapid prototype design processes, be sure to contact us today. We'd love to talk with you about what you're creating!