I have written previously about the rewards that I get out of seeing personal growth of the individuals that work at Creative Mechanisms My-Greatest-Reward-Prototype-Design but something happened this week that made me realize what tremendous progress this group has made in their ability to work as a team. I saw how much our team has learned to work together and feed off each other's ideas. It was something special to see and I feel the need to congratulate them on it publicly. Of course I can't discuss the exact job but it was the typical problem of an impossible task with an impossible deadline. We were tasked with creating a dispensing product that had very rigorous specifications. The kicker was that it had to be done in a week. I wrote an email to the client trying to gauge their expectations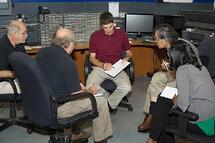 because I was certainly gauging mine. This one had me worried. What I saw in the way this team came together and solved this problem blew me away almost as much as the end result. They got together and brainstormed a bunch of different ideas. They then broke up and made several quick models just to see the behavior of the product and try some solutions. Of course all these models failed but they provided invaluable information. The way this team evaluated these models and started listing the solutions to each issue and feeding off each other was well beyond anything I had seen previously. It occurred to me as I was listening and watching what was going on that these guys had really evolved as a team. They seemed to be acting almost as one. The end result was that they pulled it off. They delivered a working model that performed far better than my wildest expectations and did it on time. What a thrill.
I got them together to discuss the project afterwards and congratulate them. I was a bit surprised and interested in what they had to say. They weren't thinking at all about how they were working as a team. The teamwork was just happening naturally. They said that the crazy time frame was what really drove everything. There was no time for anything but contribution to the goal. nothing superfluous to that was allowed to enter the environment. Everyone knew it and focused only on what the best solution was. The other interesting thing was that the time frame forced the simplest solution. Given more time we probably would have done something a bit more complicated but there was not time for complicated. A more complicated solution would have probably allowed for more margin of error. Everyone's focus was on the simplest solution to each individual problem and they let nothing interfere with that. I was truly impressed with what happened here and I congratulate them on their personal as well as their team growth.