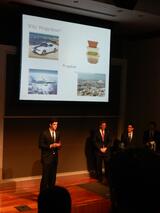 I had the honor last Thursday to participate in the judging panel for the University of Pennsylvania 2013 Senior Design Completion for the schools Department of Engineering. What and impressive job these students did. I was extremely impressed with the accomplishments of all the students involved. The projects were exceedingly involved and resulted in viable solutions to real world problems, opportunities and technological advancements.
Congratulations to you all.
The results of these projects were truly impressive but one of the things that impressed me the most was the level of presentation and the ability of these students to communicate some extremely technological subject matter. I had recently been reading about how Alan Alda has been teaching a communications course at Stony Brook University to help scientists communicate their complicated subject matter. If engineers and scientist speak in a jargon filled language that a layman can't understand their projects will suffer from lack of funding and acceptance. It might not be the idea that is the problem it can simply be the ability to communicate the idea. Some of these presenters did an exceptional job communicating extremely complex subject matter in a straightforward and entertaining way. Obviously Penn is tuned in to this issue because these students did a great job.
All of the schools of Engineering were represented including Material Science, Computer and Information Science, Mechanical Engineering, Chemical and Biomolecular Engineering and Bioengineering. These schools covered a diverse range of subject matter and it was quite difficult to compare them. The projects done by the Computer Science and Mechanical Engineering Departments were the ones I could relate to the most. There was a computer program called Sperch that could help you select the best product, in this case a laptop, by reading all of the reviews available and developing a criteria based on use as opposed to technical specifications. Another project had cameras situated over digital advertisement boards that would identify age and gender of the people around it and would display the ads most relevant to the audience. The one that was the closest to the type of product we develop here at Creative Mechanisms was called inVigo. It was meant to prevent unintentional drowsiness occurring in comfortable environments with little stimulation like when you are driving for long periods of time. It was a pair of glasses that could read the blinking of your eyes and distinguish between normal blinking and drowsy blinking. If it detected drowsy blinking it would vibrate to wake you up before you nodded off. These were easy projects that I could readily relate to because they fit into my experience and my business.

What I found equally impressive was when students could explain the importance and relevance of projects outside my comfort zone. The first presentation was "Highly Aligned Nanowires for Electronic Memory device Applications". This is a technological process that is truly groundbreaking. Karthik Kumar was the sole presenter for his research and his ability to communicate this advanced subject in a straightforward and understandable manner was commendable.

I would predict that the projects I mentioned as well as most of the other research presented that day will find its way to commercialization in one form or another. They were all viable technologies and products that solve real problems or advancements in technologies. I look forward to hearing about these impressive students in the future and I am sure I will.