I have learned many lessons from the results of "off shoring" the PC term for sending our jobs overseas. Most of them I don't care to write or think about. One lesson that I hope our political leaders have learned is that "work grows talent." A company doesn't usually decide they are going to gain certain expertise and just make it happen. It happens by experience. It happens by having the work come at you and figuring out innovative ways to get it done It happens by solving problems and learning from mistakes and by having a high volume of work to complete.
I recall when manufacturing first went off to China. Everyone said that even though the manufacturing was moving off shore, the product design and engineering would always stay here. Guess what? Work grows talent. There is a lot of engineering involved in manufacturing. The talent to design and engineer product naturally grew rapidly with the volume of work China was receiving. It didn't take long for the product design and engineering jobs to disappear as well.
If work grows talent then the inverse is true as well. With all of the work going off shore, the talent grows with the work and the talent is lost from the place the work disappeared from. The number one problem for my business friends who own tooling and machining companies is finding employees. We lost a generation of developing talent. The guys who weathered the storm are retiring soon and there is no one behind them to take their place. There wasn't enough work to support jobs for the younger generation. I sure wouldn't have encouraged my children to go into the machinist trade five years ago.
We are now seeing some of that work come back from China. At least we are seeing it here at Creative Mechanisms. The exciting part of that besides renewed company growth, is the growth of talent and expertise. New work comes in, new challenges need to solved and suddenly you have new expertise that you wouldn't have dreamed of a year or two ago.
Our ability to machine polypropylene is one such example. CNC technology is the use of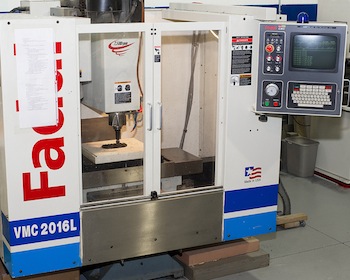 machines that cut material away from a block. It's a subtractive process that uses cutters much like drill bits to remove material from a block and "cut a part." We have been using CNC technology since the early 2000's. Over the past several years we had been using that technology less and less. It was being replaced by the new technology 3D Printing. FDM is the type of 3D printing that we use. It has a print head much like an ink jet printer that drops little drops of plastic on top of each other to "grow a part." It is an additive process as opposed to the subtractive method of CNC. It is able to make parts much easier and faster than CNC. I saw the use of the FDM process taking over the CNC process here in a big way. I thought it would eventually replace it here. I was wrong.
We had several projects come in where we needed to make a product with a living hinge. A living hinge is a small strip of plastic that joins two parts and acts like a hinge between the two pieces, usually a container and a lid. Look at a dental floss case for an example. Products that use a living hinge are mostly made in a material called Polypropylene. Its soft and flexible yet strong enough to have such a thin part hold up to so much bending and do so without breaking. The problem with this material is that it is extremely difficult to machine. It's too gummy. I have been doing this type of work for a long time and solving the problem of prototyping a living hinge had always stumped us. We tried machining polypropylene without much luck. We tried casting flexible urethanes. Some of the 3D printing material are flexible but the hinges only lasted a few bends. Most of the time we just used a piece of clear tape.
A funny thing happens when you get a lot of work of one type. You figure out a way. We developed a way to machine polypropylene and machine a living hinge that is only .005 inch thick. We developed an expertise that I have never heard of anyone having and one that solves a problem that many companies have. We can prototype something that up until now was nearly impossible to do. I don't think this would have ever have happened without the pressure of having to solve a problem and having the knowledge that there is enough demand to make it worth the investment in time to solve it. Work grows talent.
Have you seen an influx of new work that is changing your business and growing your expertise?