We just completed a big rush job and are in the process of taking a look back at the lessons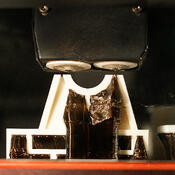 learned. The customer wrote to say how happy they were. The job went out on time without the usual crazy last minute franticness that so often happens in our world. Is it me or do time frames just get shorter and shorter? This job went off without a hitch in a time frame that would of been unheard of a few years ago. Our team just took it in stride and didn't even think twice about it. It's the reality of the job in today's world. The technology we use today has certainly allowed us to do things so much faster than we used to do but it seems that the product of that technology is less time to get the job done not more. This isn't just in our industry. It seems to be a reality of technology in general. Look at what smart phones have done to the way we live our lives and do business. Try not having your phone for a day much less a week. Is this a good thing or bad? With everything there is a give and take. With technology we get more productivity not more time. We gain the ability to do more with less. In our society as in business productivity is good.

I had a customer come in today whom I haven't seen in many years. He was away from the product development business for quite a while and now has come back into it. He couldn't believe how we develop product now. It was completely foreign to him. He brought me back to how long it used to take to make a model from a 2D AutoCAD drawing and how the way we worked then compares to what we do today. 3D CAD and Printing technology has changed the business completely in a relatively short time frame. The time frame it takes today to develop a product is really a fraction of what it used to take. That doesn't give us more time though. It has just become the new normal.

In this day of reflection I have to wonder: what is being worked on now that will have as big an impact on our lives as smart phones, 3D CAD and 3D Printing? Do you have any ideas?