Last Friday I was invited to participate in Philadelphia Academies Inc.'s career day at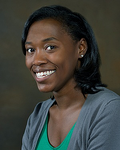 Roxborough High School. I've taken part in PAI events before and I have to say I always find them rewarding.
For this event I got to share a classroom with one other professional and talk to students about what I do and how I got here. The students were allowed to hop between rooms. So every 30 minutes you had a new audience of Juniors and Seniors.
Before speaking I observed a room in which none of the kids were interested in the career fields being discussed. They were quiet and polite, but generally disengaged. To get the kids back, the presenter redirected the conversation to them by asking what they wanted to do, how they came to that decision, and what their next steps were.
Many of my friends that already have their bachelor's degrees have returned to school for something completely different. Most of them returned to do something they were passionate about when they were in college the 1st time, but were busy studying something "more practical." I myself commuted from Philly to Manhattan to take evening industrial design classes at NYU because it was the closest option that didn't require me to quit my job and go back full time.
Now of course I couldn't help but gush about my job when I got in front of the students. But in hopes of being pertinent to more of them I focused on my journey to combine my passion with my core competency. Earlier in the week the students attended workshops about budgeting and the costs of higher education. And if nothing else, I figured I could at least warn them of the costs of ignoring their passions the 1st time around.
While many students were, well, high school students. It was great to see the faces on a few of them as things started to click. At the end of the event one teacher told me she was going to share my story with some of her other students. Apparently the kids took interest inventories earlier in the week and several of them had vastly different interests and had no idea what to do with them.
If you ever get the opportunity to share your story with students I urge you to go for it. And if you're looking for one, Philadelphia Academies Inc. organizes events year round and is always looking for volunteers and corporate partners.
What lessons would you share with today's youth?