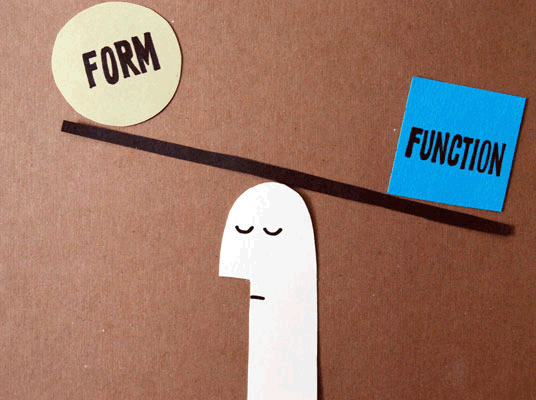 The most direct way of doing something isn't always the most expedient. I'm constantly reminded of that when faced with the navigation option: shortest or quickest route. When it comes to designing a product a similar question comes into play. Do you make it easy to use or easy on the eyes?
Now I'm not saying you can only have one or the other. But in a time of Apple aesthetics the pressure for visual perfection is high. While Apple products have become design icons of today. Their aesthetic and design language has been honed over the life of their product line. There was time -as Tony put it- to design, fail, learn and repeat on a large scale.
When shrinking it down to individual product development timelines, more often than not, there just isn't enough time to perfect both (e.g. Apple's numerous iPhone release debacles). So how do you attempt to strike the right balance?
Working through them concurrently is a good place to start. As you initially form concepts in both realms there is room for each to affect the other and they can grow symbiotically as development progresses. It's when you start with a focus on, or make a commitment to one early on, that you find the other struggling as it yields to it.
The benefits of such an approach were seen on a large scale by the US auto industry in the late 80s. American auto makers couldn't get their cars to market as quickly as their Japanese counterparts and were suffering as a result of it. By changing from a linear departmental hand off structure to multidisciplinary teams they were able to cut down their lead time. Because with everyone involved, different departments could collectively and quickly design, fail, and learn from each other.
So while we all have our own form/function inclination, it's important not to neglect the other side. Because it takes a mix of both to hit the success sweet spot in the current consumer market.
What steps do you take to balance form and function during product development?