Weathering the Storm. I would hate to count the number of times I have used that expression in the last few years. Who would have known that we would have to face a very real storm like none we have ever seen? We did weather the storm and we are open for business today. All of us lost our power at our homes and only one has had it restored so far. Miraculously though we never lost power at the shop. We remained dry and intact and are back in business as of today.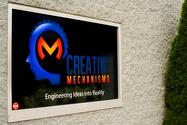 I hope that all of our friends and customers who were also in the path of this storm are safe and your property has sustained minimal damage. If there is anything we can do to help please let us know. It will take a while for things to get back to normal but we are starting to do that today by getting back to doing what we love, engineering ideas into reality.
How are you doing in the aftermath of this storm?