"I have not failed. I've just found 10,000 ways that won't work." Thomas Edison
The consumer product development process is long, involved, and certainly has its obstacles. One of the most critical components to eventual success is great design and engineering for your product. Over the years, we have helped multiple companies and organizations successfully bring a product to market, and there are a few universal lessons we've learned. One concept that has helped our design and engineering team grow over time is the concept of how to turn failure into opportunity by following this mantra: Design, Fail, Learn/Adapt, Repeat.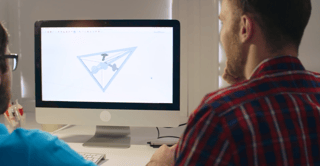 This process works best when you jump right in and try something - not expecting it to work, but knowing that you will learn a great deal by examining why it doesn't. This process also works best when you get through a Design-Fail-Learn-Repeat cycle quickly, because of course, time is money in the consumer product development process, and especially when manufacturing is involved. Let's discuss each step in a little more detail:
Design: Many times, so much of what we do is figuring out a way to do something that hasn't been done before. This takes creativity, persistence, leveraging prior experience, and thinking outside the box. In addition to brainstorming solutions, a design team must completely understand the objectives and parameters required by the client. For instance, is design for assembly more important? Or design for manufacturing? What about design for affordability? All of these considerations are in addition to function, aesthetics, and other factors.
Fail: Failure is good, as long as you learn something from it. It's rare that the first thing you try works, but each iteration has the potential to provide learning opportunities that may translate to other projects as well. The important part is to do it fast though because you will have to repeat the process over and over, and still work within a strict timeline.
Learn/Adapt: Learning is the key, and it needs to happen quickly. You need to glean as much information as you can from each trial. 3D CAD software helps speed up the process (at Creative Mechanisms, we use SolidWorks). We can animate our mechanisms to see virtually how something is behaving. You can make several passes of this process on the computer before you make a physical model to try. Adapting and learning also mean being able to apply knowledge gained from previous projects in various industries to the challenge at hand. (Read here for SolidWorks tips from the pros.)
Repeat: Self-explanatory! In all seriousness, being able to quickly cycle through the design, fail, learn cycle means that timelines are met, improvements are made, and a particular concept is best set up for success in the consumer product development process.
When does it make sense to hire a design and engineering team for consumer product development?
It's not always feasible to have multiple iterations when one considers finite resources like time and money, so it often makes sense to delegate the design and engineering of a product to a firm who specializes in this skill and has had many, many opportunities to hone it. This is where a company like Creative Mechanisms can be a real value-add to your organization. We have made a reputation based on our ability to design elegant solutions to complex problems, deliver on timeline and under-budget, and maintain excellent communication with our clients throughout the process. But don't take our word for it - please take a moment to read through some of the Client Testimonials we've earned on previous projects. We would be honored to earn your business, and encourage you to reach out for future design and engineering projects.