We work with some great clients in a variety of industries. Lately we have been making packaging prototypes for a company that manufactures plastic dispensing closures, caps, lids and other packaging components. Making packaging prototypes for this type of work is extremely difficult. One of the biggest challenges is being able to prototype a living hinge. Flip Top Caps are made from one piece of injection molded plastic that have a thin web of material between the bottom and the top of the cap. This thin piece of material acts as a hinge to allow the top to open, spring back and then spring forward to close. The material that is used for this is polypropylene. Polypropylene is notoriously difficult to machine, especially when you are dealing with thickness as thin as .005 inch which are found in the living hinge area.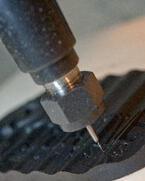 Over the years we have tried many ways to prototype a living hinge. We have cast low durometer urethanes but they don't hold up to repeated uses. We have used high performance specialty tapes which can hold up fairly well but it certainly doesn't look like a finished product. We have finally solved the problem by developing a process for machining polypropylene on a CNC machine. We have developed a way to machine polypropylene down to a thickness of .005 inch, all while eliminating the burring and fuzz that normally plagues machined polypropylene parts. We are making functional prototypes in the production material that prove the design before going to injection molding. These models can also be used to show customers the design and function.
Plastic closure packaging is becoming very sophisticated with clever mechanical solutions to opening and closing a cap. This type of mechanism design is perfect for us. Closures and caps are very price sensitive. The goal is to add a lot of value to the package without adding a lot of cost. Minimizing parts for a mechanism in order to contain costs is part of what we do every day. Creating a very complicated mechanism with as few parts as possible is what is required. We are always conscious of the cost of what we are developing and do everything we can to eliminate parts, remove excess material and simplify molding. There are typically many patents for these types of mechanisms so you have to be exceptionally creative and develop something that is truly unique.

Another area of packaging prototypes that we help our customers with is vacuum formed blisters or containers. The new technologies that we work with have dramatically reduced the cost of producing these types of prototypes. Before this technology came along we used to create a clay sculpt of the shape that we wanted the blister to take on. We would then cast an epoxy material over the clay sculpt and use that casting as the mold that we would vacuum form into. Today it is much simpler. We draw the mold in Solidworks, our 3D CAD software, and then print the mold out on our FDM machine. We can actually adjust the setting on the FDM machine so that it prints the form out with a finely porous structure which aids in puling the vacuum through the part. We then pull blister in clear PETG or containers in opaque styrene. The results are prototype packages in the actual production material and they can be made much faster and more cost effectively than in the past.
Are there other difficult packaging prototype problems that need a solution?