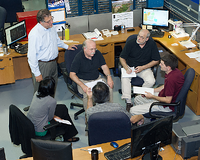 One of the greatest rewards I receive from my job is watching the people who work here grow, learn, and evolve. Several factors contribute to this. The amazingly challenging projects for prototype designs that pass through here for one. Another factor would be the incredibly fast time frames that we deal with and how they force ideas to be quickly vetted producing great solutions. The most influential factor though is the way in which this team of brilliant minds works together that is unlike any group I have led before.
It takes a special group of people who can quickly come together, brainstorm ideas, come to a consensus, execute and evaluate without ego, bias or fear. The exchange of ideas in this group can take on a life of its own. They feed off of each other and grow an idea into a concept in very short concise interchanges. Brainstorming here isn't always a formal activity. It happens on the fly very naturally and effortlessly. We have been very aware of the evolution of this process and have configured our shop layout to facilitate it. Our group sits in a large U shape continuous work surface so that brainstorming doesn't have to mean getting up and going into a conference room. It happens by everyone turning their chair around and meeting in the middle for a quick discussion or evaluation. The open area in the middle of this layout is where all the minds come together and it's very powerful.
The personalities of the group play a very important role as well. We have a diverse group that have a wide array of talents. Mutual respect for those talents is a key. Putting the job ahead of your ego is critical. Giving honest opinions and not being afraid to ask for help or guidance is fundamental. When all of these things come together it is a beautiful thing to watch and I find that extremely rewarding.
What's the most rewarding thing about your job?