This is the third installment of a series on Assembly Design that is taking a look at some features that will ensure easy assembly and accurate positioning and orientation of parts. Part 1 introduced what assembly design is all about and examined a couple of assembly design methods and can be found here. Part 2 went further and discussed some more methods for assembly design; it can be found here .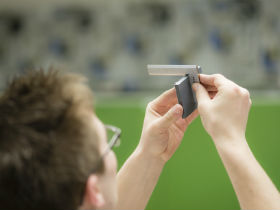 RETAINING, ALIGNING, AND ORIENTING FEATURES
Adapting designs to allow the incorporation of features to locate and hold components during assembly is a great advantage that the injection molding process offers. Many products feature designs where components are held by two halves of the assembly without the need for any extra attachment. This makes for a very efficient assembly as well as eases and quickens disassembly for recycling or repairs.
It is necessary for parts to assemble easily and efficiently with as much accuracy as possible. To minimize possible errors in assembly, especially with parts that have leading edges, chamfers are introduced to one or both edges to enable quick alignment of mating features and thereby allowing for a greater possibility of inaccuracy during assembly. There are a few established designs for aligning mating parts and each comes with its pros and cons. For example, tongue and groove designs, where an interlocking edge is used, stops thin enclosure sidewalls from buckling under weight during molding but may also lead to some molding defects. Another design, called the stepped edge, supports the wall from one direction as there is no groove. Instead, a rib is designed to serve as a wedge between the two walls in a specific orientation, setting up a more accurate and sturdy alignment.
Incorporating orientation features to injection molded parts can greatly reduce or, in some cases, completely eradicate errors in assembly. Using features that will make it impossible to assemble parts, except in a specific way, will ensure that products are being assembled correctly, in the right direction, and with the correct alignment. Indicating correct assembled positions on the mating parts, with a mark of some sort, to a lesser degree ensures reduced chances of misalignment and incorrect assembly. Another way may be to design the part itself so that it allows for correct assembly in virtually all directions or in as many orientations as possible. This can be done by increasing part symmetry.
There are other designs, such as boss and post-in-hole, whose design requirements and other factors will lead to the choices on which alignment feature is best for use. An experienced designer can always adapt design to increase alignment without significantly increasing cost.
UNEVEN MATERIAL THERMAL EXPANSION
It is common for plastic parts to be fastened to other components that are not plastic, but these other materials, such as metals, glass, wood, fabric, etc., each have a different coefficient of thermal expansion. This means that when subjected to the same amount of heat and the same rise in temperature, these materials will all expand at different rates. So if there will be a fusion of two or more materials with different coefficients of thermal expansion, this factor must be accounted for. Some plastics expand when exposed to moisture as though they were exposed to heat so, under this condition, adjustments must be made to the design to accommodate a possibility of uneven expansion.
TOLERANCES
Allowing for tolerances is imperative for any kind of design, including assembly design. In an ideal situation, accounting for tolerances would be redundant but in reality, it is a necessity. Every step in manufacturing contributes to largely unpredictable variations and the possibility of error. Assembly steps such as positioning and welding also contribute to these issues, so it is wise to consider all possible sources of variations and calibrate and adjust tolerances for the most cost effective overall assembly cost.
This concludes the three part series on Assembly Design 101. We hope you have both enjoyed it and learned something from it.