Basic mechanical devices are often an important consideration in designing and engineering solutions to complex problems. Devices like springs, gears, cams, and levers are often key components that make a particular product functional. Understanding which mechanical device best suits a purpose enables design engineers to design for excellence and other objectives (such as assembly). In this blog, we'll look at ratchets, which have a primary purpose of limiting motion (rotary or linear) to one direction only. This can be accomplished in multiple ways, and there are many applications where unidirectional motion is desired.
What are some common applications of ratchets?
When you want to restrict motion to one direction only, ratchets are the way to go. For instance, when you're jacking up a car to change the oil, it's highly preferable that the jack move in only one direction (up) until you're ready for it to come down again. Turnstiles (like what you see at an amusement park or the airport) share a similar purpose: restricting the flow of people to one direction (except for those people that are willing to take a bar in the gut). Zip ties, socket wrenches, and clocks all incorporate ratchets as primary components as well. Car jacks and turnstiles are examples of gear ratchets, while zip ties are an example of linear ratchets.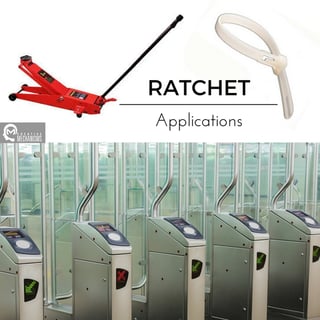 What are the components of typical ratchets?
A ratchet is composed of three main parts: a round gear (or a linear rack), a pawl (also called a "click"), and a base (or mount).
Gear:

Ratchets composed from gears are typically round and are composed of uniform but asymmetric teeth designed to limit motion to a single direction. The edges on one side of the gear's teeth have a steep slope (oftentimes nearly perpendicular to the tangent of the gear's circumference) while the other edges of the gear's teeth have a moderate or gradual slope.

Linear Rack

:

Some ratchet designs utilize a linear rack in place of a round gear. The tooth design on a linear rack is exactly the same as it is with a round gear.

Pawl ("Click"):

The pawl is the part that makes contact with the gear or linear rack. When the gear (linear rack) is rotated (linearly moved) in one direction, the pawl will slide over the teeth without restricting the natural motion of the device. When the direction of motion is reversed the pawl will come into contact with the steep slope on the gear tooth and will impede motion.

Mount:

Gears or linear racks and pawls are typically mounted in a fixed relationship to one another on one or multiple planes.
There may be additional and distinct parts that make up a particular ratchet device. In both types of ratchet described above, a force is often applied to the pawl in order to maintain contact with the gear. Springs or a lever system are usually used to accomplish this. Lever systems involve turning the pawl into a first order lever (see our page on levers for more on the topic). In this capacity, the pawl rotates into a position where it engages the gear. This type of design can be used to create a mechanism where the direction of the restricted motion can be changed.
Are there design and engineering limitations to using a ratchet?
In general, ratchets can only stop backward motion at discrete locations (i.e. at each successive gear). As a consequence, ratchets can allow a limited amount of backward motion called backlash or "play." Backlash is the maximum amount of distance or the largest angle of rotation that can be lost in one direction (typically the direction opposite that in which the device is designed to move freely) prior to a resistive force being applied to the next part (tooth) in the mechanical sequence. Obviously, this is an important factor in design and engineering; a zip tie with teeth spaced too far apart is much easier to escape from!
Thankfully, there is a workaround to this particular limitation. If a design requires one to minimize play in the device, it is possible to make a toothless ratchet utilizing two high friction surfaces (e.g. metal and rubber). Since backlash is principally a function of the surface's compressibility, something like a polyurethane surface can significantly reduce losses due to backlash.

Do you have a design challenge or prototype development project that involves a ratchet mechanism?
It can be incredibly frustrating getting stuck in the design process, or feeling as though an idea cannot be executed. Whether ratchets, gears, levers, springs, living hinges, or other mechanical devices are required or desired, we can likely assist with effective design. Creative Mechanisms has assembled a skilled team that has considerable experience devising elegant solutions to complex (and simple!) problems. Our design engineers have a wide swath of experience that allows them to brainstorm, design, and iterate effectively. If you have a project or prototype you are trying to develop, our team might be a great fit to help turn your idea into reality. But don't take it from us - take a look at our customer testimonials page to learn what previous and current clients have to say about working with our organization. Thank you for reading, and please feel free to contact us at any time with questions or ideas!