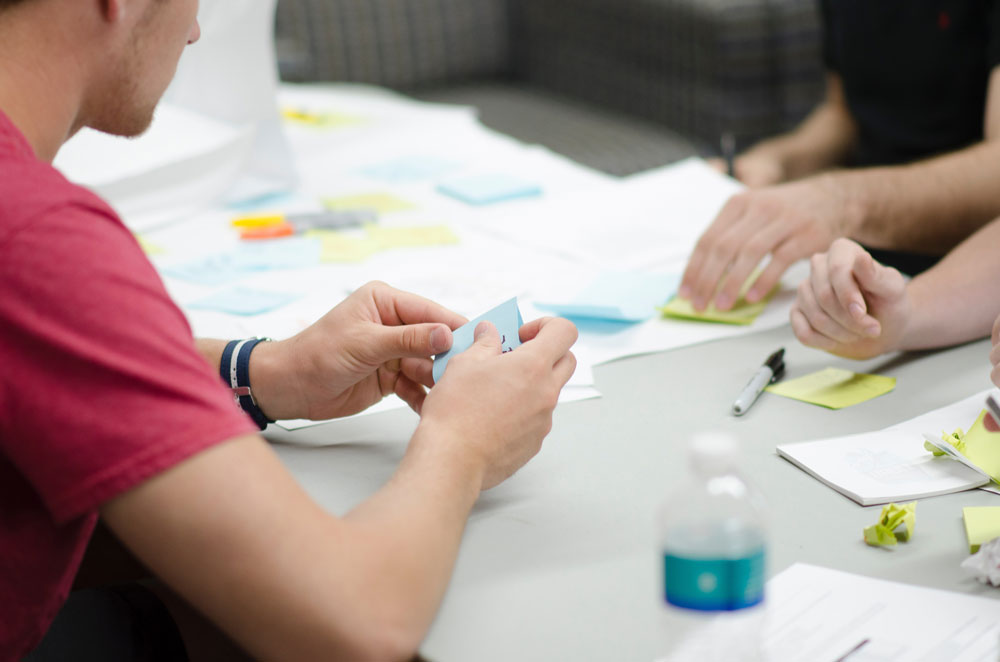 Companies that are developing new product on a continuous basis and are often looking to improve the level of creativity and innovation in those new products. Developing a system and a structure for innovative thinking is important for any product development team. How to go about creating it can be rather difficult though. The most important factor is that it must be a natural fit with your company culture. The type of work that you do, the number of projects, the size of your team and certainly the personalities of your team members are all factors that will influence your innovation system and structure. Our process has unconsciously evolved over 30 years of doing product development. We now have a process and a structure that is consciously designed to help take the innovation level of your product to the next level and it something that we work on and refine daily.
Our process for innovative thinking revolves around short bursts of collaboration. Our team meets to discuss an initial problem or product. Some initial ideas are exchanged. Some questions are asked that may require some research or questions may need to get asked to the customer. If there are questions for the customer, then they get posted on the Basecamp project portal so that everyone involved sees them and gets notified of the answers. When answers are provided the team will meet again. If someone has an idea they call for the team to meet. If someone does some research and finds something relevant, they call for the team to meet. These meeting are typically short, 10 to 20 minutes or so depending on the issue. There is no big ordeal for calling a meeting. Our structure enables someone to spin their chair around and ask for everyone to join.
Our team seats at a large U-shaped series of desks. This is the critical part of our structure that enables collaborative innovation. The team sits facing outwards with their backs to the center of the U. When someone wants to call a meeting they simply spin their chair around and ask the others to do the same. Its quick and straightforward. Time is not wasted calling a meeting and time is not wasted ending the meeting. Being able to have a quick meeting like this enables the team to have many quick meetings throughout the day. It saves time and focuses the meetings on the important issue. Innovation is accomplished by experienced collaboration. Having a system and structure that is designed to promote innovative thinking elevates the products we develop to the next level.
Developing a successful product is extremely rewarding. It can be equally rewarding to grow a great product development team. Working on the system a team uses and the structure of the workspace is an important part of the process that should not be overlooked. It should be worked on purposefully if you are trying to take your product innovation to the next level.
Learn more about innovation here