I had a meeting yesterday with a client to go over a new job he wanted me to start. He started to show methe mechanism from a product that was being sold in Asia and I immediately told him I had seen it before and I thought it was patented. It was a very long time ago that I had seen this and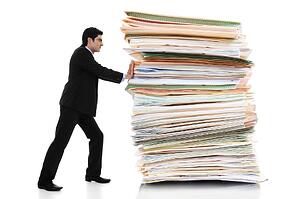 I couldn't remember the exact name of the company. We agreed to hold off on going any further so I could take some time and try to find this company that I had a brief interaction with a long time ago. Of course the first thing I did was jump on Google and try to find it. I had a rough idea of the name but every spelling and combination of search terms came up empty. I tried for maybe 10 minutes to search for it and gave up. My next move was to turn to my Evernote program. I typed in three letters into the search bar and immediately one note showed up that referenced this company. I googled the name exactly as it was spelled in my notes and not only did I find the company but they had a diagram of the mechanism we were discussing right on the web site. How much money did I just save my client?
In case you are not familiar with Evernote it is a cloud based program where you can take notes, make lists and store scanned documents. These files are searchable and available from all your devices. I should have gone there first but I really didn't think my notes went back that far. It turns out I have been using Evernote since January of 2009 and this particular note was made just a few months afterward. In those early days I used it mostly for taking notes during my meetings and phone conversations with clients. Scanners weren't as small and affordable back then. Today I have a Cannon Imageformula DR-125 at my office and at my home. It is set up so that when you put a piece of paper in the document feeder and hit the scan button the digital files goes directly to and Evernote Folder called my Inbox. I empty that Inbox daily either moving it to my "Action" Folder if tis something I need to do or Filing it away in another folder just as you would file a piece of paper in a filing cabinet. Now here is the hard part. You have to shred the piece of paper you just scanned. I can't tell you how hard that is at first. We have become programmed to hold on to every piece of paper. Get rid of it. You don't need it anymore. You can always print it out from your scanned digital file.
Another great feature of Evernote is the ability to capture web pages. It's another very hard habit to break but you have to stop hitting that print button. In Evernote there is a Chrome Extension that will copy the page you are looking at into Evernote. It will even ask you if you want the page, the article or just a selection. You know those pages that ask you to print the confirmation notice for your records. Don't do it. It's just going to sit on a pile on your desk anyway. Hit the Evernote button in the top right hand corner of Chrome and you have it save. It's just not taking up any space now.
I am writing about this topic because I get a lot of questions and comments from people who come in to my office and there is no paper on the desk but also because it is the end of the year and time to get all of my files organized to start a new year. As I start my 7th year of working with Evernote for my personal life and personal business I am seeing how I can further extend this organization to all of my company's files. Moving a past years paper files to storage in my company this used to involve about 5 to 7 "Bankers Boxes" of paper. Today I don't even fill a half of one. I think I have identified how to reduce that in half for next year as well.
I have no doubt this process has saved me a tremendous amount of time and allowed me to be more productive but the real productivity comes from moving the paperless office out into the shop and manufacturing floor. Eliminating paper and 2D drawings on the manufacturing floor will be the topic for the second part of this blog.