The world is a mechanically complex place. For the various bits of machinery to perform their functions and keep our work routines on track, many mechanisms need to work together to achieve those goals. Engineering mechanisms are simple devices that make a huge difference in our day-to-day lives (often without us even realizing it). They can work in conjunction with each other or on their own to streamline production and make our lives easier.
Here are six essential mechanisms our product design company uses nearly every day as we design functional prototypes for companies and individuals looking for creative solutions to business problems:
Actuators are devices that convert some stored energy into motion. The stored energy is usually in the form of compressed air (pneumatic pressure), electrical potential, or liquid (hydraulic) pressure. Actuators can be found across a wide range of machinery across various industries, each working to apply the necessary force that the current task requires.
Did you know? There are three principal types of actuators: electric, pneumatic, and hydraulic. Read more here.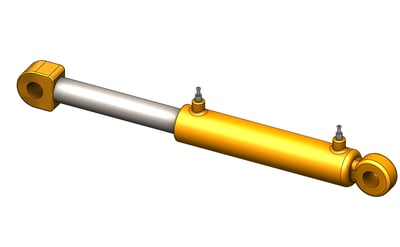 Cams are mechanical devices that convert rotational motion into linear motion. You're probably familiar with the use of "pear" cams for internal combustion engines but did you know there are infinite possibilities for cam design? Different designs result in various types of motion in the cam follower. Circular cams cause smooth linear motion, heart cams maintain a uniform velocity in the cam follower, and drop cams produce a rapid and discontinuous linear motion. The different cam permutations mean that engineers can find new ways to approach mechanical designs and find new and more efficient ways of getting the job done. Read more here.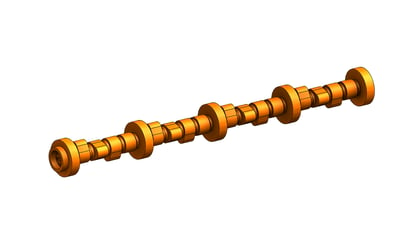 Gears are one of the most common and diverse types of mechanical devices. The primary function of gears is to transmit torque and to adjust rotational velocity.
Typically when you think of a gear, you're probably thinking about a "spur" gear (essentially a circle with teeth). However, there are many different types, including helical gears, worm gears, planetary gears, and bevel gears. Helical gears operate with less friction than spur gears, while some worm gears (self-locking variants) allow for the transmission of motion in only one direction. Bevel gears translate rotation 90 degrees and are used as an integral part of vehicle drive trains.
Perhaps the most interesting gear, however, is the planetary gear set. Planetary gears provide a diversity of options depending on which gear (the sun, planet, or ring gear) is held constant, which one is the drive gear, and which one can rotate freely. Read more here.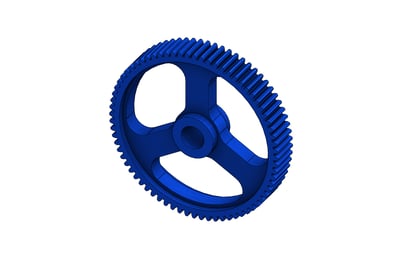 A lever is a mechanical device used to transmit and amplify force by fixing the input and output about a fulcrum or pivot point. You can find levers throughout the industrial world. Levers enable machines to move heavy materials and transport them from one place to another with ease — as long as the math and the materials used to make the lever are sound.

There's a great quote from the ancient Greek mathematician Archimedes that succinctly summarizes the foundational principle of levers: "Give me a place to stand, and I shall move the Earth with it [a lever]." Archimedes was referring to the law of the lever (M1d1=M2d2 where M is an object's mass and d is the distance from the pivot point). With a long enough lever, the Greek mathematician could move a mass of the earth's size just by standing on the other end (in theory, at least). Read more here.

Ratchets are the handy-man and mechanic's best friend. Anyone who has ever rented a UHaul to move between cities has probably used a ratchet to tighten down stored goods or to keep the wheels of their car strapped to the trailer. The neat thing about ratchets is that they lock in one direction, allowing them to tighten without fear of literally "going backward." Other cool day-to-day items that utilize ratchets include zip-ties and "ratchet" wrenches. Read more here.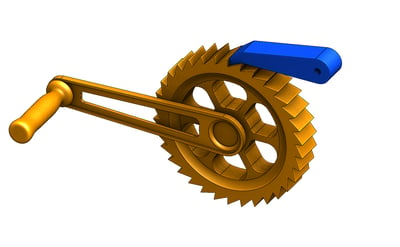 Springs are mechanical devices that store and dissipate energy. Like gears, there are several different types of springs. Amongst the most common are compression, torsion, leaf, and constant force. Springs are found within most types of industrial machinery and help these complex machines perform their essential functions.
Did you know? There's a theoretical type of constant force spring called a "zero-force" spring that would output zero force if it had zero length. Read more about springs here.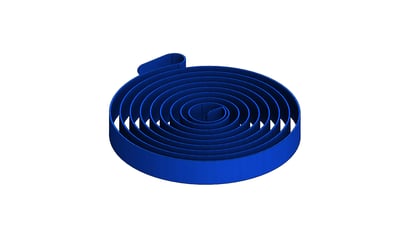 To learn more about how the product designers at Creative Mechanisms can help you with your mechanical design problems, contact our team today!