Bonafide inventors are a rare breed. They have a unique blend of intuition and creativity paired with a down-to-earth mindset. The result is a visionary who can turn product ideas into a profitable reality.
But if you're like most inventors, a successful to-market launch is easier said than done.
There are too many pitfalls that threaten to derail even the best of ideas.
At Creative Mechanisms, we've helped plenty of inventors over the last 30 years to navigate the product development process. Here are 5 of the most important things inventors need to know to launch a successful product.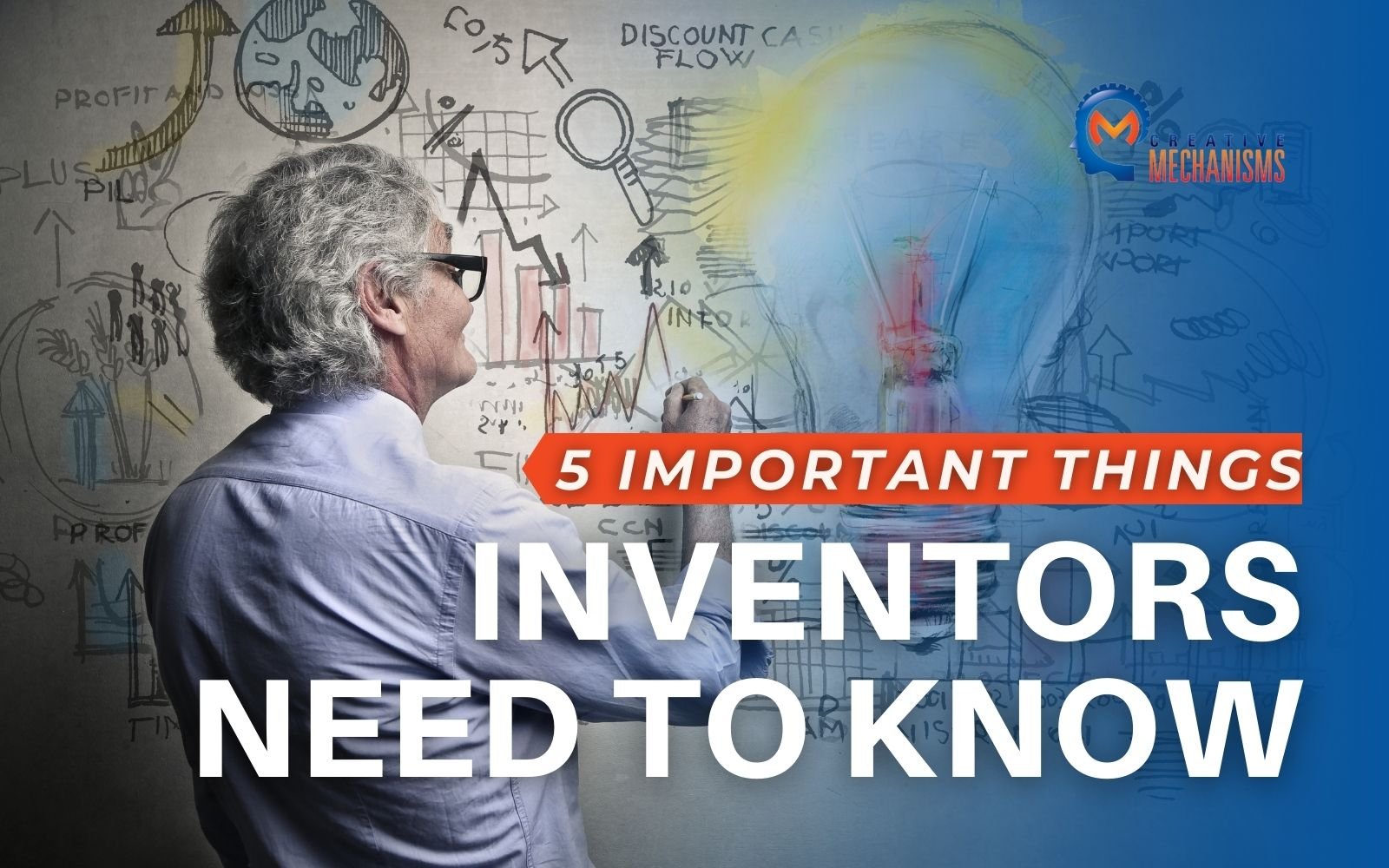 1. Start with a Patent Search
Ask any seasoned inventor, and this will be the first thing they say. Before you invest time and money into your idea for a product, start with a patent search. Unfortunately, having a good idea doesn't always equal having a new idea.
A patent search is not a step to skimp on or do hastily. If you've never conducted a patent search, it may be worth getting some help to make sure all of your details are correct.
You may find that even if someone has beaten you to the punch on your idea, a patent search may illuminate a new path to you - an innovation on top of innovation. No product is perfect; you may still find a way to improve it to carve out your own profitable course.
Download: Making Product Design Predictable and Profitable
2. Should You License or Manufacture It Yourself?
If product development were a journey, manufacturing is most akin to the Bermuda Triangle. Great ideas enter it never to be seen again - sunk in the treacherous, mysterious waters.
What does this mean for inventors? It means most inventors, especially new ones, shouldn't assume that manufacturing is a necessary part of their future.
In our experience, we've recommended licensing your product design to around 90% of the inventors we've worked with. Why is that?
A licensing agreement gives the rights to another company to manufacture and sell your product. It helps newer inventors stay more protected from potential snags in two ways.
First - the process to manufacture a final product is highly complex and consistently expensive. If you're newer as an inventor, licensing your product to a more experienced company helps raise your chances of the product making it to market.
Want more veteran insights like this? Check out our all-in-one online course just for inventors!
You will also receive a financial advance - a non-refundable deposit for your idea. Even if your product does not make it to market, you still receive a return on your investment. If the product successfully launches, your royalties bring in the primary income.
3. If You Are Manufacturing, Start with DFM
I'll start by reviewing "DFM" - design for manufacturing. It's a design approach that consistently considers how a design will translate to the manufacturing stage, helping to ensure controlled costs and successful performance.
Every step - ideation, design, prototyping, IP, engineering, and tooling - should be focused on the manufacturability of the product. If it's not financially and structurally efficient, your product will not succeed.
Inventors who are "too focused" on the end user may overlook the manufacturing stage, and it's the #1 place we see product development fail.
4. Logistics and Marketing Require More Money than You Think
I once heard an inventor compare the to-market process this way.
"I thought I signed up for a 5k but it turned out to be a marathon."
Even with a ground-breaking idea, the hard work doesn't end when you have a manufactured product in hand. That's why new inventors are often surprised by the finances required to market the product and fulfill the orders that come in.
Marketing is a pay-to-play business, especially when you are looking for scalable sales. Serious, business-minded inventors need to engage more than the friends and family crowd, and it requires money.
Advertising, sponsorships, visible placement - all of these things require a little more than sweat-equity. In your planning, don't skimp on marketing dollars.
The same goes for your logistics. As much as the world glamorizes an entrepreneurial packing-boxes-out-of-your-garage, logistics is something you need to do well. A customer's experience with your product isn't just the product itself, it's their experience with your business as a whole.
You may be able to DIY your order fulfillment, but it's wise to leave some room in the overall budget to ensure smooth logistics.
5. A Realistic ROI is Worth Its Weight in Gold
It might be true to say that people like me (Tony Rogers, CEO) would do product engineering for fun. I love the challenge, and I love work. Even still, I don't want to take part in products that I don't think have a profitable future.
The product business is equal parts "product" and "business".
That's why before you spend your valuable time and money on developing a product, you need to have a realistic estimate of your ROI goals. This includes:
A generally trustworthy estimate of your development costs

An informed price-per-unit manufacturing estimate

An industry-realistic sale price

The total sale quantity you need to reach your profit goal
Hint: You can use our ROI Calculator to help run your numbers!
The most important information I can give you here is that for your ROI to be realistic, you need an informed assessment of your development costs.
Especially if you are a new inventor intent on braving manufacturing, it is invaluable to have a manufacturing-minded partner at the table to help project your financial variables.
Taking Your Next Steps
They say to learn from other people's mistakes - it's less expensive. If you're a new inventor, there's no substitute for experience-based guidance and resources to help guide you through your project.
If you're not sure where to start, I'd like to recommend you take a look at our online course for new inventors. It'll walk you through the most critical questions and answers inventors need to ask when navigating their project.
From there, if you need more personal, hands-on assistance, my team and I at Creative Mechanisms are always available to review your project and recommend a course of action.