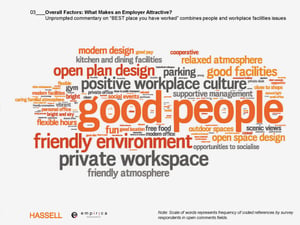 Four things that will create synergy in the workplace:
A Results Oriented Workplace (ROW): This is the concept that you can and should be allowed to work from "other than the central office" whenever it makes sense. The objective is to get work done, not to log hours in a timesheet. Not that timesheets aren't valuable - we use them to track hours spent on different projects and to maximize the efficiency of our business. The point is that if you can do a portion of your work from home, offsite, or at a coffee shop, and you get as much or more work done than you would at an office, then there's little reason to prohibit it. Since our business relies heavily on high-tech machinery, collaboration, and high-tech software, the way we implement ROW is to allow flexible hours and individual employee access to the building. This allows some of our engineers to start their day at six in the morning and others to work later at night. It all depends on what works best for you. Discussion and collaboration happens during overlap hours as well as online with digital project management tools like Basecamp.
Relaxing Environment: Get rid of the cubicles, add white noise and let people own their own space.

It's definitely important to keep things organized at work, but it's equally important to remember that your team has a family, interests outside of work, and that keeping them happy will lead to better results on the job. Our office is full of some unavoidable and somehow pleasant white noise - production processes from CNC and FDM machines represent designs coming to life! When designers need to concentrate or want to get away from the sound of plastic being machined they'll plug into their favorite music station and design while listening on their headphones.
The U-Shaped Office Layout: This has been a huge collaboration enhancer at Creative Mechanisms. Our designers ditched their cubicles and arranged the larger workspace at our workshop into the shape of a "U." Everyone uses roller chairs on top of a solid surface (i.e. concrete not carpet). It's really easy for technicians to turn around, ask questions, and assist each other on complicated engineering designs without having to leave their work-station, and without having to ask someone else to do the same. This is a small thing that makes a big difference at our company.
No Unnecessary Meetings: If you've worked in business you know what I'm talking about. There's a fine line that separates a really useful meeting and a repetitive drag on your scarcest resource: time. We try not to schedule recurring meetings and instead try to keep our pulse on the company happenings day-to-day. When we get the gut feeling that we need to bring everyone in for a group discussion, we make it happen. Typically, we run meetings to synchronize with the phases of a project. New projects necessitate data collection, brainstorming, and distribution of responsibilities. After that, it's all about getting work done and providing our people with the necessary time and resources to make it happen.
What are some tactics you've implemented in your workplace to boost efficiency and employee happiness? Tell us in the comments!