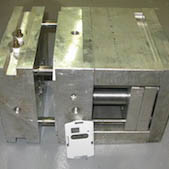 One of the really interesting technologies we're learning about is a concept called "rapid tooling." This is something we think is important and potentially game-enhancing if not outright game-changing for the manufacturing industry … but why? To understand that question it's important to understand the basics of product manufacturing and mold tool creation as it is today. Presently if you want to produce a new part (particularly a plastic part) in volume you're likely going to use injection molding to do it. Injection molding is extremely efficient at driving down your costs per unit once you've finalized development of your part and created a mold tool. That's the problem. Creating a mold tool for injection molding can be expensive and time consuming - particularly when you're still in the development stage for your product. Iterating to get a finalized prototype is just a precursor to iteration on the mold tool used to create it. Making an initial tool and updating it when deficiencies are identified is time consuming and expensive. That is where rapid tooling technology with SLS has the potential to upset the apple cart (or perhaps more accurately, to save everyone a lot of money by making the mold tool creation process much faster).
What is rapid tooling with SLS?
SLS, which stands for selective laser sintering, is a type of 3D printing where a metal powder is heated with a laser causing it to melt. When this is done in succession the molten metal combines to create a three-dimensional part. In the case of rapid tooling the end part is a steel mold tool whose ultimate function is actually to create other parts (most often made of plastic) during injection molded manufacturing. We found out about the "rapid tooling" concept from 3D Systems, one of the early pioneers in the 3D printing world, who partnered with a client of theirs (Bastech Inc.) to reduce the time required to produce a mold tool an advertized "73%." How did they do it? In short, they used SLS to cut out a lot of the prep work normally used to make a mold tool.
To be clear, 3D systems didn't print the entire mold tool from scratch. What they did was to print metal inserts that they went on to finish using manual machining, CNC, EDM, and manual polishing. You can read the rest of this blog for relevant learning points from the process. Note: SLS printing is generally very rough. That is, it's not a smooth process so it still requires finishing to be suitable for a mold tool. Contrast that to other 3D printers like FDM machines which are designed to work with plastics and produce incredibly smooth parts in and of themselves.
The baseline against which the SLS process was measured was named the "traditional process" which included the following timeline from the 3D Systems case study: "139 hours" of manual machining, "96 hours" of automated machining, "25 hours" of programming, and "35 hours" of polishing. It's important to note that these numbers are typically highly dependent on the particular project. A few things to consider: first, in our experience manually machining can often be an exercise in futility because automated machines can make much more precise cuts based on the design fed to them from the CAD software. Manual machining is most useful in small projects, for initial prototypes where time is of the essence and future iteration is expected, or for particular cuts that cannot be made due to complex geometries. In any case, the total time 3D Systems estimated for the traditional process was approximately 260 hours. When using SLS to speed the process (not including the unnecessary extra polishing), it took 148 hours to produce the mold tool. That represented roughly 112 hours saved in total (a significant amount of time considering the normal price per hour for this type of work). In summary, using SLS to print injection mold tool inserts was shown to be an effective way to mitigate time expenses during injection mold tool production because it gives you a much more finished product from which to start. It appears the total time to create a mold tool was cut by 43% by using SLS.