3D printing and injection molding aren't really competing technologies so much as they are complementary. Both can theoretically be used for manufacturing and both can technically be used for rapid prototype generation. Although the trend for additive manufacturing processes (different types of 3D printing) is growing, most serious manufacturing is done with injection molding equipment while in most cases the 3D printer is a much more effective tool for rapid prototype development.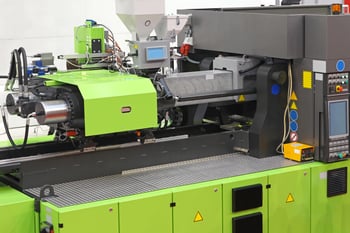 Injection Molding Machine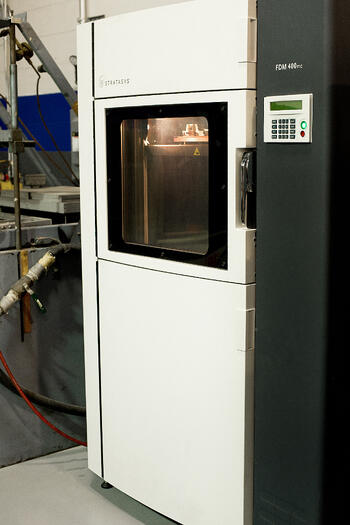 Fused Deposition Modeling (FDM) Machine
If you want to read a blog specifically about 3D printing read here. If you want to read specifically about injection molding read here. Otherwise, here's a quick comparison between the two technologies:
Category

Winner

Notes

Low Cost (1 Part)

If you need 1-10 parts and/or rapid design iterations on your prototype part then 3D printing is the place to be. Injection molding requires expensive mold tools with high cost internal cavity designs that don't make sense unless you need to do consumer research or quality control testing prior to major production.

Low Cost (10 Parts)

Low Cost (100+ Parts)

Once you start manufacturing in volume then it makes sense both in terms of time and money to use injection molding. Oftentimes you can utilize Maser Unit Dye (MUD) inserts to reduce costs during prototype development.

High Quality

3D printed prototypes are not typically finished parts. Most FDM machines utilize either ABS or PLA plastic which is more often than not a different product than the final manufactured part will be made from. In addition, Injection molded parts are less likely to delaminate in general because they are a homogeneous material that cures as a single part vice being constructed through additive manufacturing one drop at a time.

Low Time (1 Part)

3D printing is fast and extremely convenient. There is really no comparison when you're trying to design a part from scratch. With an integrated software/hardware package you can go from CAD design to the FDM machine in seconds.

Low Time (10 Parts)

Low Time (100+ Parts)

Although 3D printing is much more rapid when considering low production volumes, it is likely more convenient to use injection molding when producing en masse. Large volume prototype production would be more easily accomplished through injection molding once you have developed a single well-designed prototype via 3D printer that you can use to design an injection mold tool.
So what's the difference between injection molding and 3D printing? The two processes are entirely different. In injection molding you are melting a molten material and injecting it into a large pre-designed cavity inside a steel tool (think of a steel box with an internal shape that matches the skeleton of your part). Injection molding machines are designed to keep the plastic melted while en route to the tool cavity and then to rapidly cool it once injected so that another round (cycle) can be accomplished.
There are different types of 3D printing that you can read about below, however, the most common type, Fused Deposition Modeling (FDM) also works by melting plastic. The difference between FDM and injection molding is that the molten plastic in an FDM machine is added one drop at a time in succession. The FDM machine follows inputs from a computer design file and essentially "prints" the part layer upon layer.
What about time? As you might imagine, the printing process for a single part takes significantly longer than a single injection molding cycle. A complex 3D printed part might take several hours to print where an injection molding cycle can be reduced to several seconds depending on the complexity of the part.
What about cost? The tradeoff with injection molding is that an entry level injection molded part is going to be significantly more expensive to produce than it would be in a 3D printer. When developing a product you first need to design the prototype part itself. This is the first and last step in 3D printing. After you have the prototype design you essentially just press "print" and out comes your part a several minutes to hours later depending on complexity. In injection molding that is just the first step. The next step is designing an injection mold tool (typically out of aluminum or steel). This is much more expensive. After that you need to order the actual injection molding cycle.
Ever wonder what the future holds in the world of manufacturing? Well one thing is for sure, 3D printing technology is advancing rapidly. There are a number of different types of 3D printers on the market. Amongst the most common types is the bread-and-butter tool at Creative Mechanisms, the Fused Deposition Modeling (FDM) machine. FDM is typically used for printing plastic parts. It works by melting a plastic filament that is fed through a heated nozzle. Molten drops of plastic are added one-at-a-time to build the prototype part.
Other types of 3D printers include SLA, SLS, and SLM technology. SLA uses a laser to cure a resin material while SLS/SLM use a laser to melt successive layers of powder into a solid metal. You can read about them in more depth here.
Another initiative being pursued is the ability to print internal mold cavities for injection molding; a technology known as PIMT (Printed Injection Mold Tool). PIMT is an attempt to bypass the need to design an aluminum or steel injection mold tool. It is an interesting combination of the two technologies (3D printing and injection molding). The biggest limitation to PIMT technology are the material properties of the plastic material that is typically used in 3D printing. One solution to this is a Master Unit Dye (MUD) mold which uses a standard injection molding frame and a number of steel or aluminum inserts in order to define the shape of the internal cavity (and thus the eventual part). MUD inserts can be machined via CNC and are much more sturdy than PIMT because they are made out of metal. That said, PIMT is an attempt to essentially replicate MUD technology using the much more simple and cheap 3D printer.