Although 3D printing is all the rage right now,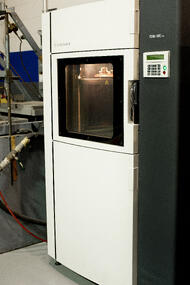 the technology isn't new. The first 3D printers came out in the late 1980s and were used to make prototyping faster; no one thought to look past that intended use to see what else 3D printing might be able to do. Now that 3D printing has come to the media's attention, however, everyone knows that the technology exists and the world is anticipating the changes – the advancements – that 3D printing can offer. The possibilities are endless.
Creative Mechanisms is in the product development business where 3D printing was first used. We bought our first machine, of course, for its intended purpose – making prototyping faster. What has happened in the industry, though, is not anywhere close to what we had imagined when we got that first machine. Up until mid-2008 we used SLA technology through a service borough. Because the material choices offered by 3D Systems were too brittle and unusable for final models, we chose not to buy their SLA technology. We had our eye on the FDM process instead, which was being developed by Stratasys. At the time, this technology was not advanced enough for us to buy into, but we kept our eye on it because it used ABS in its printers – the same production grade material we were using to hand-fabricate our models.
Although the FDM machines were lacking at the time – they weren't fast enough and didn't deliver a surface finish that was smooth enough for a good prototype – Stratasys worked hard to improve their technology year after year and then, one day in 2008, our Stratasys friend John Dobstetter came to show us the results from their latest machine, a Stratasys 400 mc. The speed had improved impressively and the resolution could go down to layers that were .005 inches thick. Creative Mechanisms signed on immediately, but, as with all new technologies, spent two to three years scared to death that this technology, along with our huge investment, would fizzle into nothing.
Guess what? Six and a half years later, our Stratasys 400 mc is still a top of the line machine. The 3D printing industry has chosen to focus on price instead of speed and surface quality. The goal has been making the existing technology inexpensive enough for the masses. Perhaps this strategy was necessary to make the technology more accessible; now that it is, at Creative Mechanisms we're hoping that the focus shifts back to improving the machines so that they're faster and make higher quality parts. If that shift doesn't happen, we won't be able to realize the full potential of this technology.
What do you think? Do you agree that the focus over the last few years was on reducing price instead of increasing the technology? Do you think that was a good strategy?