Product business is a game of margins - mechanical, logistical, financial. The goal is always to get a quality product (mechanical) to the market in a timely manner (logistical) while preserving healthy profits (financial).
Anything that helps you improve those three areas can prove critical to the success of your product, especially when you're considering your competition.
One the of the most important ways we do that as product engineers is through innovative technologies that give us an edge. Here are 3 of the most important engineering innovations that product businesses should be leveraging today.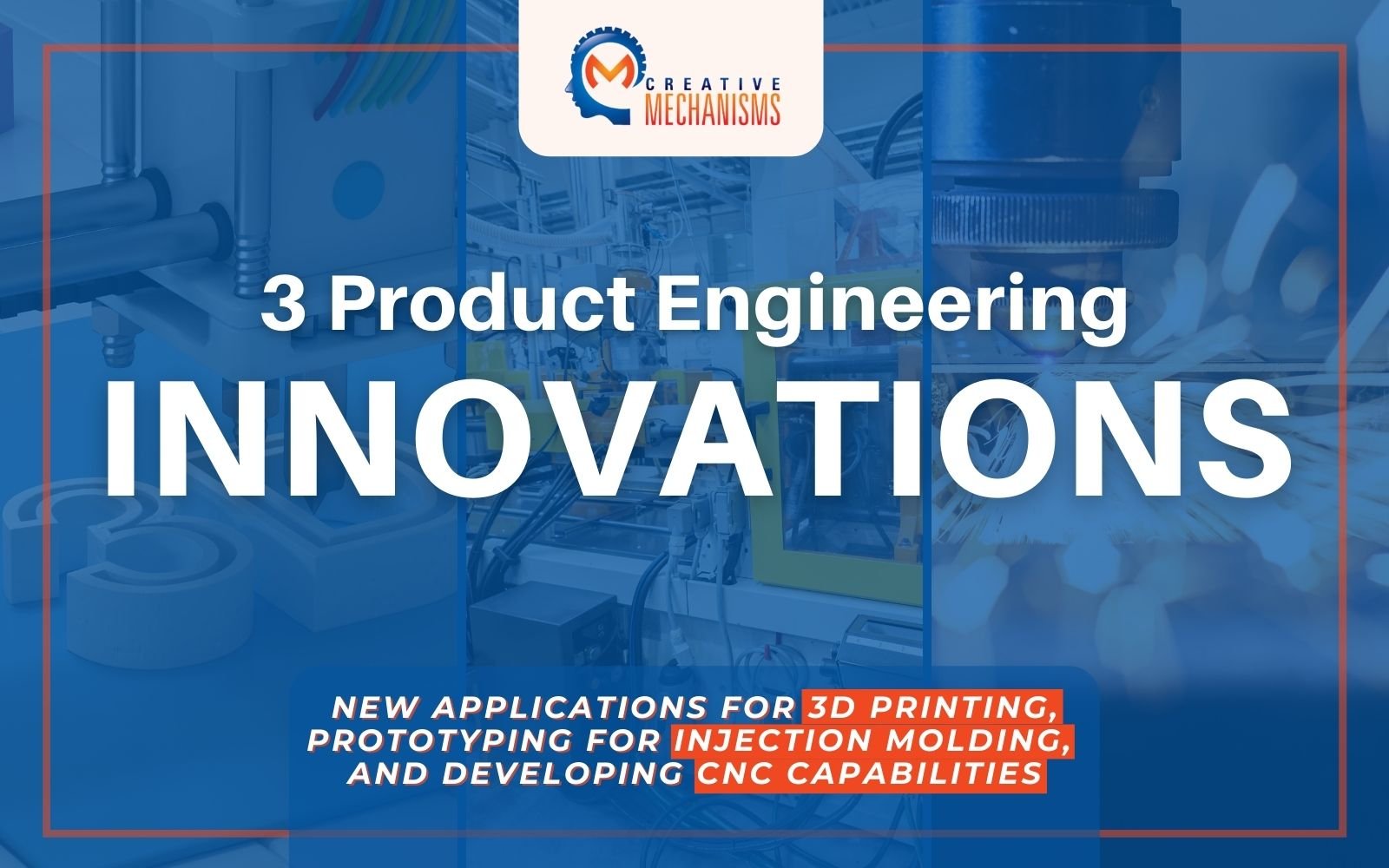 New Applications for 3D Printing
The product engineering space was, understandably, one of the first to explore the applications of 3D printing. Few technologies are as well suited for pushing the creative limits of product design.
The two main benefits of 3D printing in the design and engineering process are massively improved rapid prototyping as well as more innovative design capabilities.
Because 3D printing is able to integrate smoothly with CAD software, prototypes are able to be iterated faster while still being entirely functional. It also helps reduce your prototyping costs as it is typically less expensive than other prototyping options like CNC machining.
Additionally, 3D printing enables more innovative design capabilities because the cost of iterating prototypes for incremental improvements is far much less expensive and far quicker.
Why Some Companies Haven't Maximized Their Use of 3D Printing Yet
Still, a surprising number of product companies haven't taken full advantage of 3D printing's most remarkable capabilities for a few core reasons:
Limited access to expensive (and constantly updating) 3D printing equipment

Lack of personal expertise in cutting edge CAD-to-3D-printing integrations

Satisfaction with current methods likes CNC or hand fabrication.
The result is a widening gap between companies that adopt leading prototyping and manufacturing techniques via 3D printing and those that don't. 3D printing's role as a new rapid prototyping method has had a direct impact on the profitability of the overall engineering process, empowering those that take advantage of it.
And the good news? Even the most advanced 3D printing technology is becoming more readily available to companies of all sizes.
Where previously the cost of equipment and limitations in expertise barred small to mid size product companies from 3D printing, today's comparatively affordable 3D printers and consulting agencies like Creative Mechanisms are making both the technology and expertise affordable.
Simplifying Design Steps for Injection Molding Prototypes
Injection molding has a well-deserved reputation for being a tremendously cost effective manufacturing method – that is, if you can successfully navigate the design and engineering process.
The upfront cost for injection molded product development is usually higher, lending itself to larger scale product manufacturing. As a result, the primary key to a successful run with injection molding is getting these critical steps right in the engineering process.
But injection molding has been around for a while now, so what is the innovation to watch?
It's actually the combination of 3D printing to streamline the engineering process and an experienced design for manufacturing approach.
At Creative Mechanisms, we prefer to leverage 3D printing to accelerate the prototyping process and advance through the various iterations with faster turnaround times. We're able to do this because of our in-house 3D printing capabilities, enabling us to accelerate our client's timelines for eventual injection molding runs.
Because of the obvious differences between prototypes developed via 3D printing and injection molding, this option requires a strong foundation of experience in knowing how variables translate to the manufacturing and end user outcomes. A few of these differences can include:
Anticipating and testing for capabilities and longevity of the final product

Using comparable prototypes to anticipate any and all details that need to be adjusted before mass production
In these areas, there is no substitute for experience. For product teams that are comparably new to injection molding, it may prove invaluable to partner with a design for manufacturing partner to navigate the handoff from design to production.
Streamlined Technology for Faster CNC and FDM
If your design consists of a material that isn't compatible with 3D printing, it's important to still be able to optimize your design & prototyping process with the right supporting tools, knowledge, and technology.
One way we've been able to streamline our own process is that we prefer to use SolidCam for CNC programming, which integrates directly with SolidWorks to update our designs in real time and eliminate importing and exporting steps.
The result of using tools like this is more design time, less machine time. It puts our team in a much stronger position to turn out designs ahead of deadlines and accelerate the engineering process in a significant way.
With the wide variety of compatible tools available for CNC and FDM methods, many companies find it is preferable to lean on the experience and immersion with the tools that engineering firms provide to improve and accelerate their design needs.
Stay Up to Date on Emerging Product Innovations
Looking for a quick, simple weekly digest to help you stay in the loop on emerging trends and insights that are critical for product engineering decision makers?
Join our newsletter and get a free copy of Predictable, Profitable Product Design.
You'll get weekly insights design for busy leaders that give you the line of sight you need to what's on the horizon in the product engineering world.