A living hinge prototype typically is an injection molded product that employs the use of a living hinge mechanism. Living hinges are slender sections of plastics that connect two segments of a part allowing the parts to be opened and closed. The common applications of living hinges are in products that entail a very high amount of opening and closing such as disposable packaging and medicine containers etc.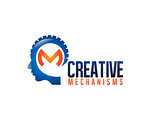 Living hinges and prototypes that use living hinges have advantages and disadvantages, but the advantages far outweigh the disadvantages. Living hinge prototypes are normally injection molded but we at Creative Mechanisms possess a unique ability to CNC machine them. To Injection mold living hinges is not an easy task and neither is machining them but rest assured that we can incorporate living hinges into your product design. They aren't machined typically because polypropylene, (by far the most common material used for living hinges) is considered very difficult to machine as it is quite soft when you compare it to other materials that are typically CNC machined. But now that you have found a company that is capable of manufacturing living hinges through another method aside from injection molding, you have also found another reason to love the living hinge. Here are other great and undeniable reasons why you should love living hinges and their prototypes.
1. LOW COST: Living hinges because of their simplicity are usually a much cheaper alternative to other hinge types. The fact that they are incorporated into the design and manufacture of the prototype makes the cost of living hinges markedly reduced
2. NO RUST: There is no possibility of rust as plastics won't react with the environment as you would have with metal hinges. There would be no need to coat or paint the hinge to protect it either.
3. NO MAINTENANCE REQUIRED: Living hinges do not require maintenance or repair because they only fail when subjected to unnatural conditions that are beyond the limits for the designed use.
4. DURABILITY: Living hinges are extremely durable. The absence of an extensive number of parts makes it very sturdy and unsusceptible to part wear or failure. Some living hinges are capable of millions of cycles before any sort of wear or tear materializes.
5. FLEXIBILITY OF DESIGN: The living hinge can be designed in many ways to suit aesthetic, movement, structural requirements among others. It is an extremely versatile mechanism that will satisfy most considerations during its design.
6. FLEXIBILITY OF MOTION: Living hinges can be designed to accommodate very complex motions and not just the conventional open and close motions. The pliability of the materials that use living hinges is exploited to achieve more intricate motions.
7. MINIMAL FRICTION: The minimal friction that occurs in living hinges and consequently very little wearmakes them useful in the design of micro electromechanical systems.
8. LIFESPAN: Plastic living hinges are typically manufactured through an injection molding operation that creates all three or more parts at the same time as a single piece. If correctly designed and manufactured, it can remain functional over the life of the part. Polypropylene is considered to be the best resin for living hinges due to its excellent fatigue resistance. It is a very flexible material and can flex more than a million cycles without failure.
9. RANGE OF APPLICATIONS: The applications of living hinges are vast and can be adapted to most injection molded prototypes that require the use of hinges. The simplicity of its design makes it perfect for such applications
10. AESTHETICS: Living hinges look quite good and are very easy on the eye due to the svelte nature of the smooth curves or straight line. There is more room for creative license and new design possibilities that can be explored
Click on the graphic below to download our case study