Working with a company that specializes in mechanism design can be very beneficial to the product you are developing. There are specialists in just about every field these days. Mechanism design is one specialty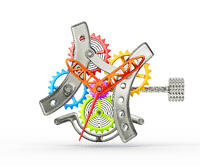 where you can really benefit from allowing the experts that do this on a day in and day out basis to find you the best solution. Expertise is gained by experience. If you are charged with producing a mechanical product would it not be better to work with a team who produces hundreds of mechanisms a year as opposed to someone who does just a few? If I was going to have a medical procedure I would certainly want to have a doctor who does that procedure hundreds of time a year as opposed to a doctor who has only done the procedure a few times. There is no substitute for experience. It is also much better to work with a team of specialists than just one. A team dynamic brings more ideas to the table. A good team feeds off of each other's ideas and builds a solution together. It almost always builds a better solution than one person could have done by themselves.
Over the next few weeks we will be sharing 10 Compelling Reasons why you should work with a Mechanism Design Specialist Team:
#1 - You will wind up with a better functioning product
A good Mechanism Design Team will evaluate all the possible ways of achieving your desired function. They know more methods of achieving that function because of their experience. They have seen and made a wider variety of mechanisms simply because they do this day in and day out. They have a tried and true process for evaluating options and determining the best solution based on cost, manufacturing, reliability, consumer preference, and ergonomics.
Come back soon to learn the others!
For a deeper dive, download our eBook