This week we are covering the last of the 10 Compelling Reasons to Work with Mechanism Design Specialist.
Read part 1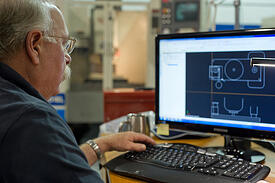 Read part 2
Read part 3
Read part 4
9. You'll have high levels of client-contractor synergy. Communication is the key to a good design process. If you want to replicate a design or improve upon it, it is vital that the design team completely understands and incorporates your requirements. Working with a team of professional mechanism design specialists offers you the opportunity to rub minds with the best of the best and have your own creative spark ignited. You will be able to get your design concepts completely decoded from your mind and encoded into an actual fully manufactured mechanism. To get this synergy, you should always choose a specialist team that speaks your language.
10. You'll have access to contemporary design techniques and equipment. A team of mechanism design specialists has more than just vast knowledge from experience – they are also up-to-date with the latest practices in mechanism design. In addition to honing the skills they've learned from past projects, they're also learning and devising revolutionary new ways of solving problems and improving techniques and processes. This manifests in new skills, increased inventiveness, better equipment, and state of the art technology. A mechanism design team that has worked together for a longer period of time is the best way for you to get the latest and greatest innovations to meet your needs, no matter what form those needs take.
In conclusion
Working with a company that specializes in mechanism design can be very beneficial to the product you are developing. There are specialists in just about every field these days. Mechanism design is one specialty where you can really benefit from allowing the experts that do this on a day in and day out basis to find you the best solution. Expertise is gained by experience. If you are charged with producing a mechanical product would it not be better to work with a team who produces hundreds of mechanisms a year as opposed to someone who does just a few? If I was going to have a medical procedure I would certainly want to have a doctor who does that procedure hundreds of time a year as opposed to a doctor who has only done the procedure a few times. There is no substitute for experience. It is also much better to work with a team of specialists than just one. A team dynamic brings more ideas to the table. A good team feeds off of each other's ideas and builds a solution together. It almost always builds a better solution than one person could have done by themselves.
For a deeper dive, read our eBook