Last week we began a multiple part blog on reasons to work with a mechanisms design specialist.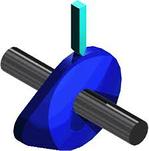 To read part 1 click here
2. Your manufacturing costs will be lower.
Every additional part in a mechanism translates into additional costs by way of extra material usage, extra manpower, and extra time to produce. Simply put, the more parts a mechanism has, the more it costs to make. One of the most apparent and immediate benefits of working with a team of design specialists is the reduction in manufacturing cost; an experienced mechanism design team has "been there, done that" and will be able to find a simple solution that still achieves the mechanism's desired result.
In addition, every part in a mechanism is able to do only so much; known as the "part tolerance," this must be considered when determining which parts to put together in a mechanism. Years of experience will have taught the mechanism design team which parts work together most effectively and which parts can be combined to achieve the desired motion with the simplest means. Because they have this knowledge, less time will ultimately be wasted tinkering with design options.
3. Your product will be easier to manufacture.
The most elegant solution to a mechanism is the one that uses the fewest parts possible to create a series of complex motions. The elimination of excess parts reduces, in addition to manufacturing costs, assembly time; it also improves the manufacturability of your mechanism. A mechanisms design specialist team must also constantly be aware of the way that the product will be physically assembled on the factory floor. The design of the assembly is just as important as the design of the mechanism, because your mechanism must be tested when it is assembled – without closing the housing. An upside down assembly in which you are able to install all the mechanical parts in the top housing is the best assembly method; your team of mechanism design specialists will be experienced in the tricks and nuances of this technique.
Come back to read the rest!
For a deeper dive, download the complete eBook